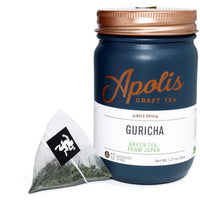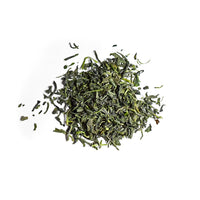 Origin:  Ureshino, Saga Prefecture, Japan
Cultivar:  Yabukita
Flavor:  asparagus, butter, spinach
Guricha is difficult to find but worth the hunt - we are so excited to share this tea.  The leaves are dark green with bright green highlights and brew an intense, emerald green cup.  The flavor is thick and buttery with fresh notes of asparagus and spinach.  In some ways it is similar to gyokuro but a bit more savory.
The flavor difference between this particular guricha and other Japanese green teas (like sencha or bancha) comes from both the grower and the processor.  When growing tea destined for guricha, the farmer adds extra to increase nutrient absorption then plucks the leaves earlier than usual so they are smaller and therefore have a more concentrated flavor.  Because the leaves are smaller at harvest time, the yield is 12-40% lower than for other types of green tea from this same cultivar.
The processing is similar to other sencha, with both steaming and kneading steps, but omits the last rolling stage resulting in a mellower, more buttery flavor and curly leaf shape, hence the name "guricha" (literally "curly tea").
 Looking for loose leaf?  Right this way!
INGREDIENTS: green tea

CAFFEINE: Moderate. Green teas typically range from 30-50 mg of caffeine per cup. For comparison, coffee ranges from 80-120 mg per cup.
Sample pounches contain loose leaf tea.
Jars are powder coated glass mason jars and measure approximately 3 inches in diameter by 5 inches tall.
These are the best way to store your tea! They are totally air tight and protect tea from UV light. If you buy a jar the first time and be sure to save it: you can simply order a refill bag when you need more!