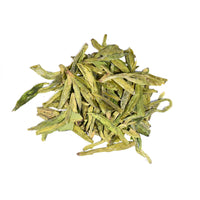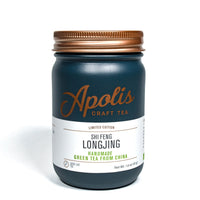 Origin:  Hangzhou, Zhejiang, China
Cultivar:  Original Longjing
Picking Standard:  1 bud to 2 leaves
Tea Master:  Weng Shang Yi
Rich and complex with striking chestnut notes, this Dragonwell (Longjing) is from the original cultivar in the original center of Longjing production.  Although the Longjing #34 cultivar is more common, Mr. Weng (age 86) continues to use it to produce his signature tea by hand. 
Not to gush, but this is the best Dragonwell we've ever had.  The infusion is a clear, yellow-gold color tinged with green.  The flavor is warm and full with the characteristic notes of chestnut and hay.  Even the spent leaves are beautiful.  
Limited edition.
INGREDIENTS: handmade green tea

CAFFEINE: Moderate. Green teas typically range from 30-50 mg of caffeine per cup. For comparison, coffee ranges from 80-120 mg per cup.
Sample pounches contain loose leaf tea.
Jars are powder coated glass mason jars and measure approximately 3 inches in diameter by 5 inches tall.
These are the best way to store your tea! They are totally air tight and protect tea from UV light. If you buy a jar the first time and be sure to save it: you can simply order a refill bag when you need more!